The wellness resort BEI SCHUMANN has an approx. 6,000 sqm SPA area,
which appeals equally to body, soul and spirit.
Our unique Roman SPA TEMPLE was opened in 2005 and thanks to its luxurious design it reminds of the ancient Roman bathing establishments. Upon entering the SPA TEMPLE, you immediately catch sight of the 31 degree indoor pool, which is available to you around the clock. The outdoor pool, heated to 28 degrees all year round, as well as the heated whirlpool will also let you experience the soothing effect of the element of water on your body.
The sauna area offers you a wide range of steam chambers and sweat baths with different focuses. For example, a Turkish hamam, the legionnaire's sauna or an oriental rhassoul are part of the offer. The ice fountain and daily changing infusions round off your soothing sauna experience at BEI SCHUMANN.
The treatment area in the SPA TEMPLE comprises 13 treatment rooms, where you will be cared for by the sensitive hands of our beauticians and therapists. For those who want to do something good not only for their body but also for their soul, there is an east-facing meditation room.
On loungers in the style of Bedouin tents you can also unwind and enjoy the tranquility of the wellness area. For this reason, please understand that access to the SPA TEMPLE of our hotel is only permitted for guests 16 years and older.
The signs of the zodiac have a very special meaning for the Schumann family and were therefore included in the design of the SPA TEMPLE. For example, the twelve columns of the inner SPA area symbolize the signs of the zodiac. For each sign of the zodiac, there is also a separate water source with Kirschauer rock crystal water. These are carefully selected according to their positive effects and let you recharge your batteries.
SPA-TEMPLE
Approx. 6.000 sqm SPA area
Indoor pool, usable all day long
Outdoor pool heated all year round
Heated whirlpool
Kneipp pool in the outdoor area
Ice fountain in the sauna area
Varied sauna area
Solarium
Daily changing sauna infusions
Various SPA treatments
Oil bar at the SPA reception
Meditation room, usable all day long
PORTICUS garden
Swimming lake SEEWUNDERBAR
Sufficient number of resting couches
Our wish is that at BEI SCHUMANN you can find time for each other as a couple and rekindle your love. In addition to relaxation for your body and downtime for your soul, we also want to stimulate your mind. Together with your partner, discover the world of Victor Hugo and his couple philosophy. His poem about man and woman, decorated with pictures, stimulates conversation and at the same time invites you to dream.
You are welcome to deepen your time together in one of the SPA Suites or TEMPLE Suites or end the evening with a culinary delicacy in one of our restaurants.
Enjoy the tranquility in the SPA TEMPLE and choose from our rituals for relaxation, care or for your beauty in the hotel BEI SCHUMANN your own personal time-out for body and soul.
show more
Our treatment area includes 13 treatment rooms where you will be professionally cared for by the sensitive hands of our beauticians and therapists. In summer, our treatments take place outdoors. For this purpose, inviting treatment tents are available in our garden.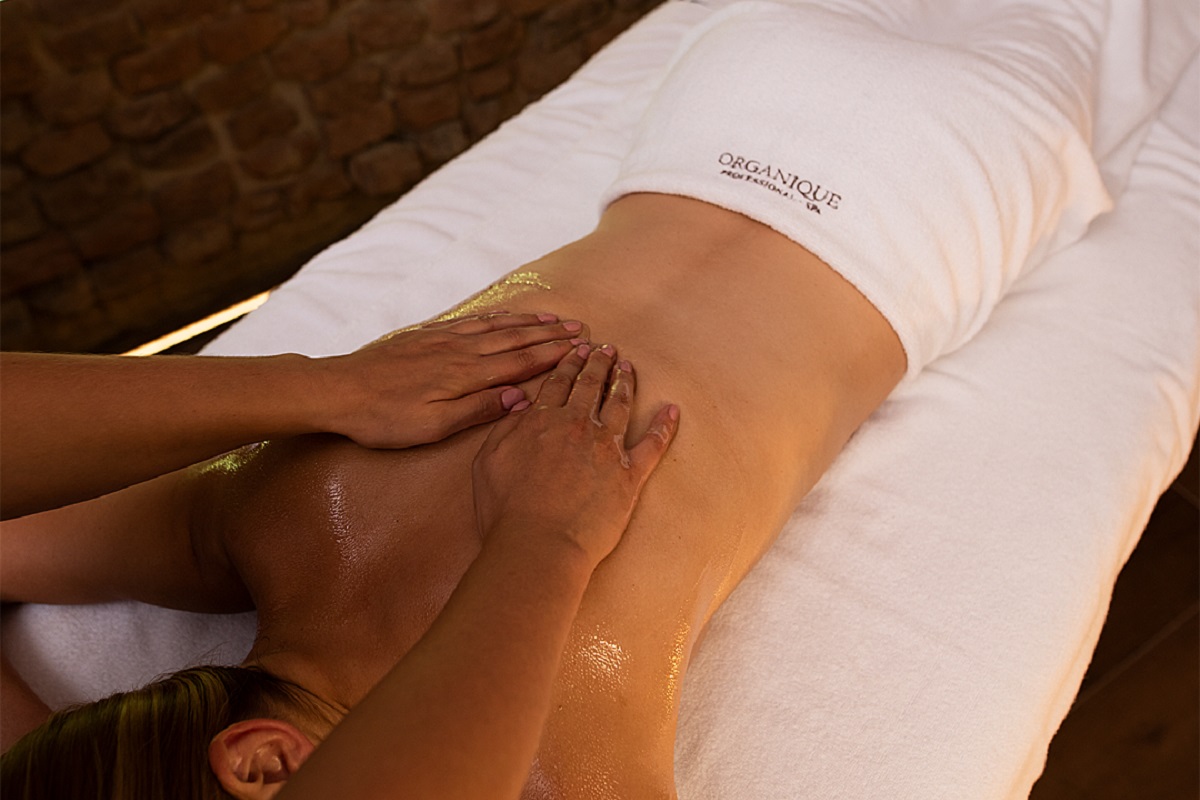 You can use our SPA highlights in specified periods and at special conditions. Discover here interesting discounts and great offers for a unique application. In summer our treatments
show more
take place outdoors. For this purpose there are great treatment tents in the garden. The time spent at our swimming lake SEEWUNDERBAR contributes to further relaxation.
Turn your day into something special with a short visit to our SPA TEMPLE. As a Day-SPA guest, relax after your workday in the soothing warmth of the nine different saunas and steam baths,
show more
in the Turkish hamam or our oriental rhassoul. Enjoy one of our relaxation, care or beauty rituals before you go home deeply relaxed. For the duration of your stay, you will receive a SCHUMANN SPA bag, including bathrobe and towels.
Experience paradise on earth in our unique saunas in the Roman SPA TEMPLE. Envelop your body and mind with precious aromas and let the warmth carry you. Enjoy the moments of tranquility
show more
and complete relaxation. Our sauna area allows you to choose the right sauna for you from a variety of different therapy methods. We will be happy to advise you on this.