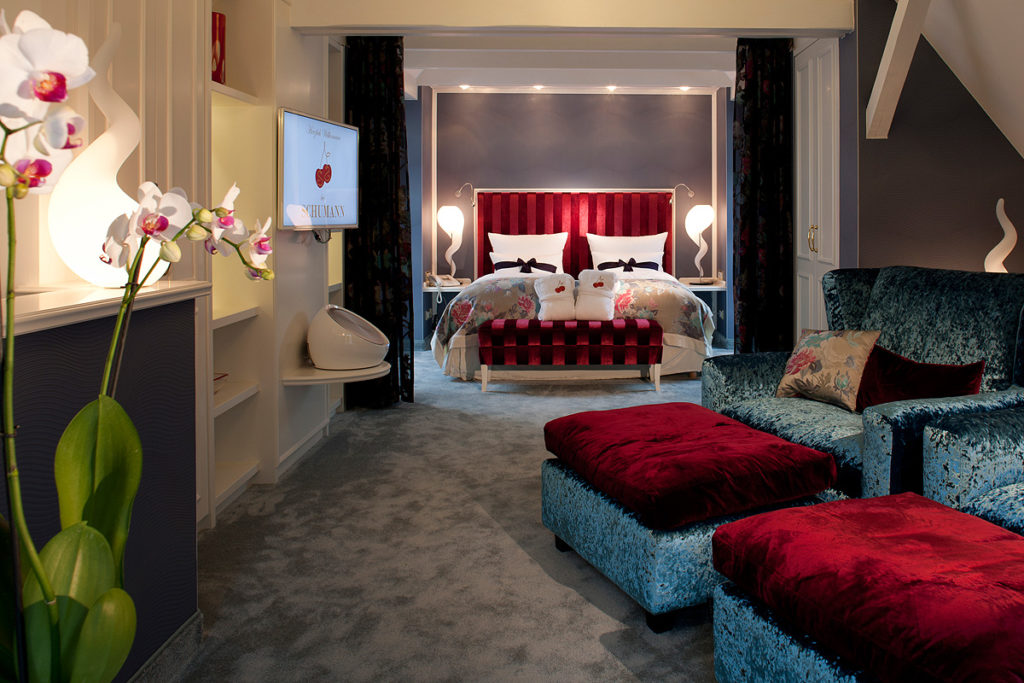 Each suite at hotel BEI SCHUMANN has its own unique charm thanks to hand-picked accessories and carefully selected elements.
Elegance, sensual lifestyle and enduring architecture come together in our luxurious suites in a particularly tasteful and always harmonious way.
Thus, each room appeals to the senses of our guests in its own unique way. Feel our comfortable beds and the fine fabrics that make your overnight stay an exquisite experience.
Each suite is air-conditioned and equipped with its own coffee maker and flat-screen TV including SuitePad. In addition, all suites have a luxurious bathroom with hairdryer and bathtub, some also with additional shower. Since each of our suites is unique, you will find different delicacies everywhere, such as a separate living and sleeping area, Raindance shower, round bathtub, balcony or fireplace.
If you have any individual wishes for your stay, please do not hesitate to contact us. Come and relax with us and experience the unique SCHUMANN feeling.
Pure luxury on almost 150 m² of living space awaits you in our VIP Suite. Let our chef de cuisine Robert Hauptvogel prepare an exclusive menu for you in your very own private kitchen. You will definitely not forget this culinary treat!
You will spend further incomparable moments on your private roof terrace. Experience the sunset here as a unique spectacle. Watch the sun bathe the rooftops of Kirschau in a very special light while you ring in your special evening with sparkling champagne in your own Jacuzzi.
Bed size: 2 mattresses á 90*200 cm
Price upon request – per person & night
Our creative
SCHUMANN Suites
Each of the four SCHUMANN Suites is individually furnished according to the wishes of a family member.
According to the wishes of the daughter of the house, a balanced arrangement in purple and gold tones awaits you in the Oriental Suite. In addition to romantic details, it offers you a free-standing bathtub and a cozy sofa in front of the fireplace as a highlight.
The Cherry Royal Suite at hotel Bei SCHUMANN reflects the wishes of the lady of the house. Royal extras such as the spacious terrace and warm red tones not only give this room its name, but also intensely appeal to the spirits of our guests.
Our Paradise Suite awaits with its very own flair. The original design in turquoise and pink is based on the creative character and unusual taste of the son of the house. Enjoy here a fantastic view and the modern design on two levels.
The chef himself has created a feel-good atmosphere for smokers in our Pleasure Suite. A separate living/sleeping area in noble golden tones combined with a covered terrace and an inviting fireplace make this suite a true gem.
Bed sizes: 2 mattresses á 90*200 cm
FROM 234.00 Eur – per person & night
Directly in the SPA TEMPLE, our
TEMPLE Suites
All six TEMPLE Suites are named after planets of our solar system. Equipped with a large bathroom, they offer you an island of tranquility in stressful everyday life. Thanks to the central location in the SPA TEMPLE's sun corridor, you have short distances to all treatment rooms, to the sauna area or to the outdoor pool.
For those very private hours for two, our SPA Suites Romeo and Julia are the perfect retreat. Both suites are equipped with massage loungers and thus offer the possibility to indulge in a wellness treatment as a couple at the same time. The private sauna and the large round bathtub also invite you to relax together. Cozy time as a couple is spent in a relaxed atmosphere in front of the crackling fireplace.
Bed sizes: 2 mattresses á 90*200 cm
FROM 175.00 Eur – per person & night
Sensual time out in our
SPA Suites
Stay innovative and try things out. This was exactly the basic idea behind the design of our SPA Suites.
Like the other TEMPLE Suites, these are located directly in the Roman SPA TEMPLE and have the indoor pool for 24h use directly in front of the door.
In addition to their own sauna and a large round bathtub, they also offer the possibility of exclusive use of the massage beds integrated in the room and located in front of the fireplace.
Individual furnishings, in harmonious Mediterranean tones and dreamlike comfort – for a sleep just like that. Much too good to leave you right after getting up.
Bed sizes: 2 mattresses á 90*200 cm
FROM 175.00 Eur – per person & night
Tradition & Modernity in our
WEBER Suites
With the total of 9 WEBER Suites, the Schumann family has adopted the charm and ideas of the classic suites of the former hotel "Zum Weber" and wrapped them in a new dress.
Top modern equipment meets rustic flair here. In most of the WEBER Suites, the living and sleeping areas are separated from each other or, for example, a Raindance shower is part of the equipment.
For example, enjoy a night in our Romantic Suite, which has given many marriages a happy and successful start since the 1980s. Thanks to the free-standing four-poster bed, cozy hours for two are guaranteed here.
Bed sizes: 2 mattresses á 90*200 cm
FROM 157.00 Eur – per person & night