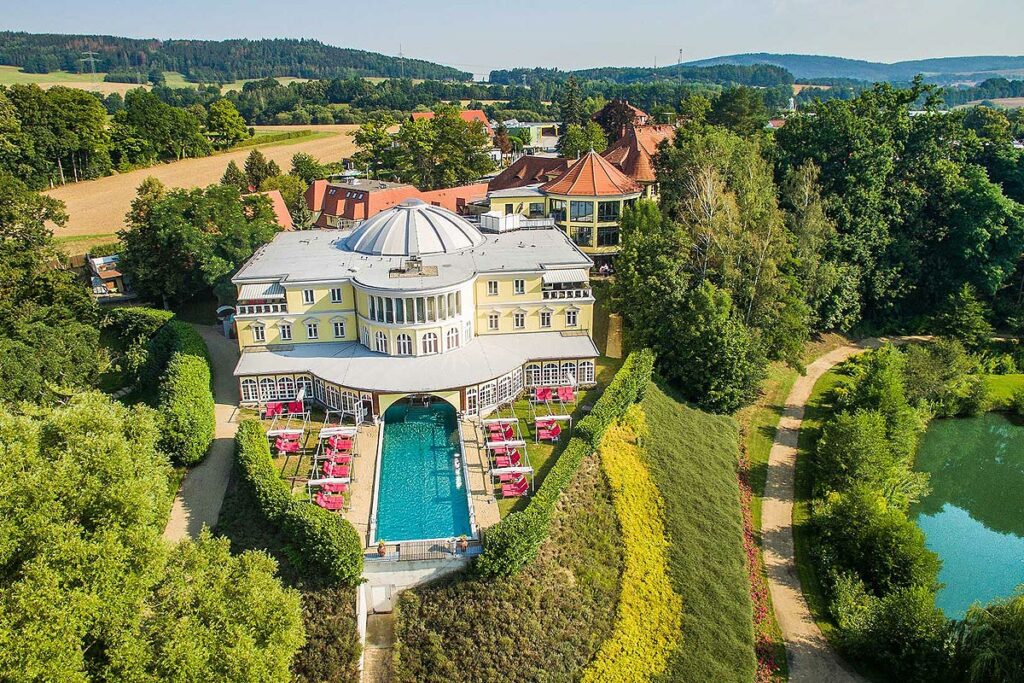 Be full of anticipation for a vacation in the middle of nature, combined with pleasure, sensual joy, premium wellness and unique Roman SPA experiences. Welcome at BEI SCHUMANN.
Hotel BEI SCHUMANN: a place that invites you to enjoy life. Take a look behind the scenes and learn more about the history of our hotel or current news from Kirschau. You will also find all information about our hotel, our services and offers.
The hotel BEI SCHUMANN in Kirschau, Saxony, is THE address for enjoyment and well-being in Upper Lusatia. With its 5 stars superior and one Michelin star, it is one of the best luxury and wellness hotels in Saxony and the surrounding area. Discover in the Upper Lusatian Mountains, just an hour's drive from Dresden and a few minutes from Bautzen, a 30,000 square meter exclusive and original wellness and pleasure resort created for wellness lovers, lovers, gourmets and gourmets as well as demanding individualists. Lovers of good taste will get their money's worth here.
The secret lies in the magic of the moment – and for us, that begins where the unexpected begins. Only when we exceed your expectations do we turn your impressions into true experiences.
This is our passion – what moves and drives us every day. We have made it our mission to make your visit with us something very special.
As a guest of our personally managed hotel, you should feel completely comfortable and appreciated. Service, cordiality and professionalism are cultivated and lived at BEI SCHUMANN.
Experience unforgettable impressions in our SEEFLÜGEL with the approx. 1,300 sqm SPA 2.0 with sun deck and Germany's first Flying Pool or in our unique Roman SPA TEMPLE on approx. 4,700 sqm, unique in Saxony. Be full of anticipation for a vacation in the middle of nature, combined with pleasure, culinary, premium wellness and unique Roman SPA experiences. We look forward to seeing you with all our hearts, anytime! We wish you already at this point an unforgettable stay.
Your family Schumann
and the dedicated team of the hotel BEI SCHUMANN in the Upper Lusatian Mountains
Our philosophy
The wonderful luxury that the ancient Roman baths still exude once seduced us to dream. We dreamed of a place where time seems to stand still and bow to the eternity of love.
show more
A place full of sensuality and romance that makes room for emotions that are lost in the constraints of everyday life and pushed to the edge of consciousness by the force of habit:
Feelings of pure intimacy and unclouded harmony, of pure happiness and joy in the other person. Victor Hugo, the most important representative of French High Romanticism, spoke from our hearts – his poem about man and woman, his writings about love and passion touched our souls. The millennia-old bathing culture of mankind fascinated us visibly. The history of care, water and pleasure was explored by us; we learned and traveled. Thus we were strengthened in our search for the right place – which we then found in the picturesque town of Kirschau. Or maybe it also found us? In any case, it was love at first sight!
Adults Only
Our unique adult hotel BEI SCHUMANN in the middle of Upper Lusatia is a place of senses and sensuality, pleasure, relaxation and tranquility – far away from everyday life, completely with yourself.
show more
Our guests appreciate the cozy world of togetherness and security in the lovingly furnished rooms, the delicious world of enjoyment in four differently oriented restaurants and the sensual world of the SPA TEMPLE.
Parents in particular will enjoy the tranquility and discover relaxation on a new level. Our "adults only" hotel is perfect for solo travelers seeking time for themselves. As a couple, you can enjoy the magic of togetherness here in peace and quiet. Our hotel BEI SCHUMANN is just as suitable for entertaining days with girlfriends and friends.
We are happy to welcome you accompanied by your children from 16 years as young adults.
Included services hotel
Arrival from 3:00 pm / Departure until 11:00 am
Free parking around the house
Scraping free of the car windows in winter
Luggage and parking service
Free WiFi in the entire hotel
show more
Bicycle Container
Cell phone charging station in the hotel lobby
Internet workstation incl. printer in the hotel lobby
Individual check-in with welcome drink & hand compress
Personal tour of the hotel
Exclusively non-smoking rooms & suites
Smokers Lounge in- & outdoor
SuitePad (digital guest folder / telephone) in all rooms & suites
Large selection of daily newspapers & magazines on SuitePad (also international)
Stay service incl. option to opt out
Shoe shine service
Pillow bar / music bar
SPA bag incl. bathrobe, slippers & towels
Umbrella / cuddly blanket on loan in all rooms & suites
A bottle of Kirschauer mountain crystal water on arrival in all rooms & suites
Nespresso coffee machine and kettle in all suites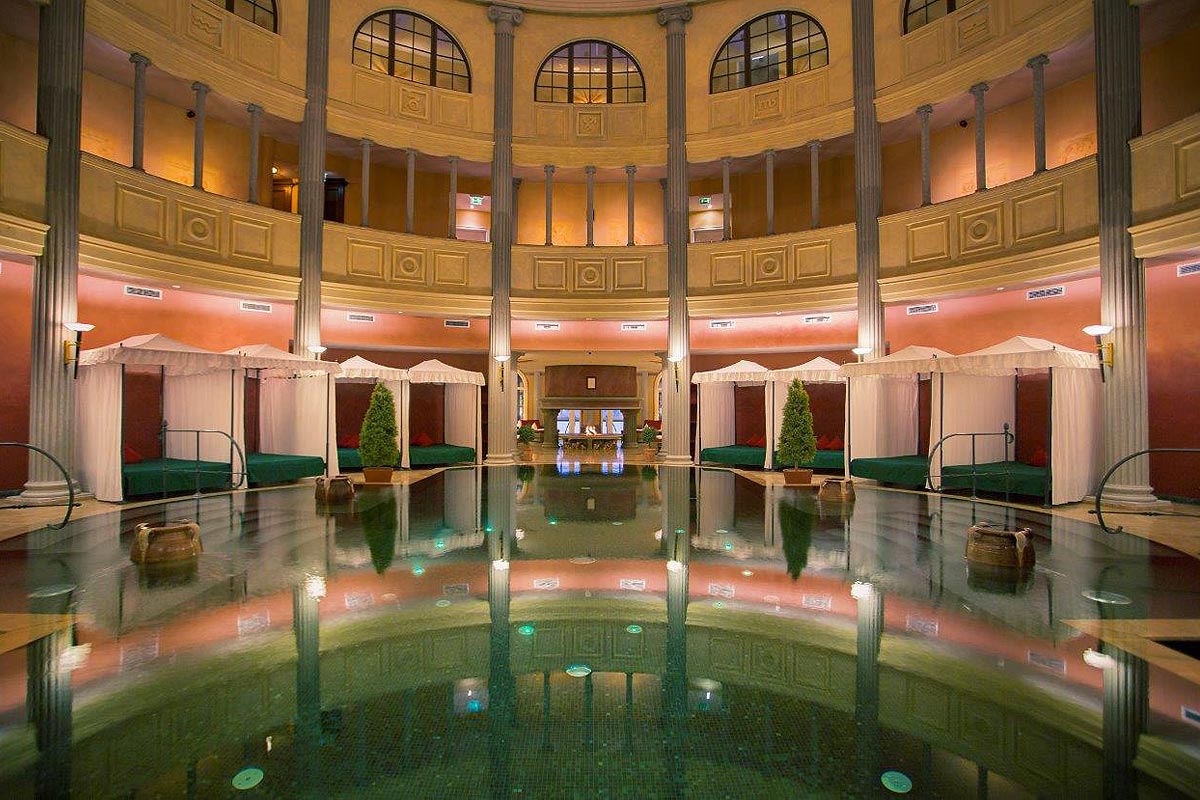 Included services SPA
Early arrival from 12:00 pm or late departure until 3:00 pm in the SPA TEMPLE (by appointment / extra charge)
6,000 sqm SPA area
Indoor pool (usable 24 hours) 31°C
show more
Outdoor pool (usable from 7:00 am to 9:00 pm) 20 meters long / 28°C
SPA 2.0 with Germany's first Flying Pool (usable 24 hours) 12x5m / 28°C as well as 3 additional saunas and snow sauna (only when booking a SEEFLÜGEL Junior Suite)
Whirlpool
Kneipp pool in the outdoor area
Porticus garden with secluded spots at the SEEWUNDERBAR incl. rowing boat, floating islands, loungers and treatment tents
13 treatment rooms as well as treatment tents in the garden
Natural cosmetics
Fitness room (usable from 8:00 am to 9:00 pm)
Fit & Active program: aqua fitness, belly-legs-po, jogging, Nordic walking, back fit
Solarium
Relaxation rooms with various lounging options
Meditation room facing east (usable from 8:00 am to 9:00 pm)
Roman legionary sauna, hamam, rhassoul
Daily changing sauna infusions in different saunas incl. changing scent
Ice fountain in the sauna area
Peeling for steam chamber
Water from the gemstone springs
Changing selection of beverages at the SPA reception desk
Included services gastronomy
Preparations for allergy sufferers and guests with food intolerances
(after prior notification)
Great gourmet breakfast with regional products daily 7:00 am to 12:00 pm
show more
Our breakfast fairies will prepare for you á la minute egg dishes, savory and egg pancakes, also enjoy:

Various coffee and cocoa specialties
Different kinds of tea
Various vegetable juices – to press yourself
Refreshing cold drinks from our juice bar (water, flavored water, juice, sparkling wine)
Muesli corner with various dried fruits, seeds & nuts
Homemade jams and various honeys & Nutella
Large selection of bread & rolls as well as various alternatives
Butter croissants and cookies
Regional sausage and cheese specialties
Salmon and fish specialties
Large selection of fruits & vegetables from the region

Enjoyment buffet daily from 1:00 pm to 5:30 pm in the KIRSCHLAUBE (extra charge):

Knackiges Salatbuffet mit verschiedenen Dressings & Toppings
Assorted appetizers
Daily changing main course
Homemade soup of the day
Large selection of fruits & vegetables from the region
Large selection of homemade cakes
Various coffee and cocoa specialties
Water bar (still / medium water and flavored water)
Note for tobacco lovers
We are also pleasure people and have created small oases for our smokers. So they can indulge in our CHURCHILL, the smokers lounge, in the KULT-HIPPO-BAR and in a separee of the KIRSCHLAUBE your pleasure.
show more
All our rooms and suites – except our PLEASURE SUITE – are NON-SMOKING rooms / suites. We ask you to take this into account and thus to be considerate of guests arriving in the future.
In the event that we have to determine that you have smoked in your room / suite, we will charge you a cancellation fee in the amount of the pure accommodation price.
Stay with a dog
Dogs are "Welcome" with us and must abide by the following rules:
they have "their own camp"
they are well-behaved that no other guests are disturbed by barking
show more
while "master & mistress" are in the restaurant or in the SPA area, your four-legged friends are waiting dutifully in the room / suite
in the hotel they must always be accompanied and walk on a leash
Please understand that any damage caused by your pet will be charged to you by us.
If a subsequent rental is not possible due to damage or / and major basic cleaning, we will charge you a cancellation fee in the amount of a pure accommodation price.
Please note that we welcome well-behaved dogs only in selected rooms or suites in our house. For your dear four-legged friend we charge 29.00 EUR per day as well as a one-time final cleaning fee of 48.00 EUR.
Please register your dear four-legged friend before arrival.
Additional services (extra charge)
Concierge service
Bicycle & Mountain Bike Rentals
Piaggio with or without chauffeur
Guided hiking tours
Laundry service
show more
Flower service
Extra services in rooms & suites ( bouquet of flowers / flower magic / rose heart / chocolates / fruit plate / sparkling wine / champagne)
Large selection of massages, signature treatments, cosmetics
Individual training time
Events in the gastro area
Events in SPA area
Private cooking by the chef de cuisine in the VIP Suite
Cooking classes with the chef de cuisine
Breakfast in the room & suite
Picnic basket
Charging station for e-cars (flat parking fee)