"A restaurant is a form of lived fantasy,
in which the food plays the absolute leading role."
(Warner LeRoy, businessman and grandson of one of the founders of Warner Bros. Studios)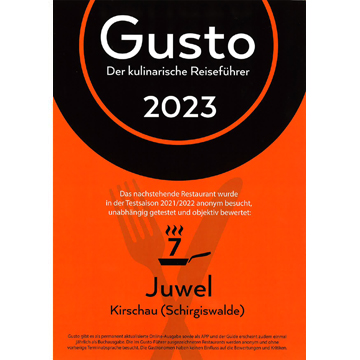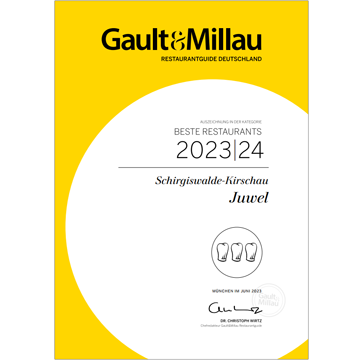 The gourmet restaurant JUWEL in Kirschau is the only star restaurant in Saxony in the countryside. You can experience this exquisite combination of star cuisine and Upper Lusatian lifestyle only BEI SCHUMANN. The fate of the excellent gourmet restaurant JUWEL is led since summer 2020 by chef Robert Hauptvogel as well as since August 2023 by chef Tobias Heldt. Their team, as well as the two, attach great importance to the highest quality and the very best regional products in order to be able to offer our discerning guests inspiring experiences of pleasure.
In the process, masterful interpretations are created in our restaurant, which surprise our guests anew every time, served on high-quality porcelain from the Fürstenberg porcelain manufactory. The exclusive ambience also makes the JUWEL one of the top addresses for passionate gourmets and demanding connoisseurs in the Hotel BEI SCHUMANN.
The cheese trolley is a special unique piece, which was created in cooperation with the handicraft company Möbel Palme and only the best from the Fromagerie Antony from France is offered to every cheese lover. Experience perfection down to the smallest detail in our gourmet restaurant JUWEL in the hotel BEI SCHUMANN in Kirschau. Robert Hauptvogel and Tobias Heldt are supported by the experienced and longtime restaurant manager Patrick Grunewald.
Reservation
Phone:
+49 (0)3592 – 52 00
Opening hours
Wednesday to Saturday: from 6:00 pm
Closing times 2023
December 11 – December 17